Ruslan Ibragimov
Senior Software Engineer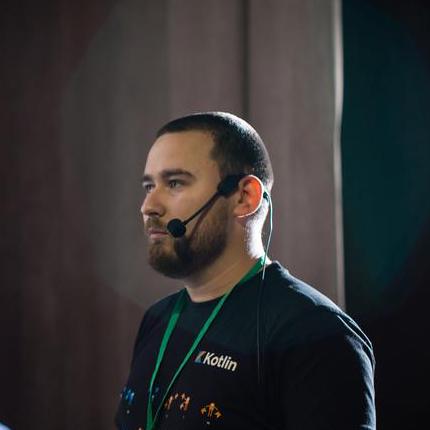 I have great experience in computer science. Every day I try to find new knowledge, technologies and study them. At work my goal - do perfect products, transfer my knowledge in team. I often speak at local meetups and attend to conferences. I understand software development process, and already use few software development methodologies: waterfall, scrum and kanban. I'm doing my best to write clean, maintainable code.
I will be happy to work with people like me: people that love technologies, software, hardware and cycling :D
---
Education
Belorussian State University of Informatics and Radioelectronics (2009 - 2014)
Bachelor's Degree Electrical and Electronics Engineering
Organizer
Speaker
2019
2018
2017
2016
2015
2014
Attender
Certifications
2019
2016
2015
2014
2013
2012
Books
2021
MIG Pilot - The final escape of Lt. Belenko - John Barron
Тайные виды на гору Фудзи - В.О. Пелевин
2020
Устал рождаться и умирать - Мо Янь
2019
Clean Architecture: A Craftsman's Guide to Software Structure and Design - Robert C. Martin
The Little Book of Ikigai: The secret Japanese way to live a happy and long life - Ken Mogi
2018
Социальная Архитектура - Питер Хинченс
The Lean Startup - Eric Ries
The Elephant in the Brain - Kevin Simler, Robin Hanson
The Power of Habit - Charles Duhigg
WTF? - Tim O'Reilly
Flow - Mihaly Csikszentmihalyi
UnMarketing - Scott Stratten, Alison Stratten
Hacking Growth - Sean Ellis, Morgan Brown
The one Thing - Gary Keller, Jay Papasan
Origin Story - David Christian
How Successful People Think - John C. Maxwell
Getting Things Done - David Allen
Thinking, Fast and Slow - Daniel Kahneman
Talent is Overrated - Geoff Colvin
The Talent Code - Daniel Coyle
My Morning Routine - Benjamin Spall, Michael Xander
2017
Kotlin in Action - Dmitry Jemerov, Svetlana Isakova
2016
Дефрагментация мозга. Софтостроение изнутри. - Тарасов С. В.
Программист-фанатик. - Фаулер Ч.
2015
Java. Новое поколение разработки. - Б. Эванс, М. Вербург
2014
What's New in Java 7? - Madhusudhan Konda
Три цукербринера - В.О. Пелевин
2013
Designing for Emotion - Aaron Walter
Скотный двор - Джордж Оруэлл
Собака Баскервилей - Артур Конан Дойль
Стив Джобс - Уолтер Айзексон
Mobile First! - Luke Wroblewski
Responsive Web Design - Ethan Marcotte
Анти-Карнеги - Эверетт Шостром
It As Is - Дмитрий Липкинд
Нажмите ВВОД - Джон Варли
Игры в жизнь - Александр Чубарьян
Миллион для идиотов - Александр Чубарьян
Точка невозврата - Александр Чубарьян
HTML5 for Web Designers - Jeremy Keith
Design Is a Job - Mike Monteiro
1984 (Signet Classics) - George Orwell
Фальшивые зеркала - Сергей Лукьяненко
Прозрачные витражи - Сергей Лукьяненко
Mother's Day, On the wild side, Press-clips, The absolute beginner, Американские каникулы, Американский редактор, Веселый и могучий русский секс, Двойник, Ист-сайд - вест-сайд, Корабль под красным флагом, Это Я - Эдичка, Мой лейтенант, Муссолини и другие фашисты, Мутант, Стена плача, Те самые, Эксцессы, Юбилей дяди изи - Эдуард Лимонов
2012
Продажа вина без бутылок: Экономика сознания в глобальной Сети - Джон Перри Барлоу
Реконизм - Сименко Илья, Петров Роман
Волшебный котел - Eric S. Raymond
The Cathedral & the Bazaar: Musings on Linux and Open Source by an Accidental Revolutionary - Eric S. Raymond
Заселяя ноосферу - Eric S. Raymond
Форензика – компьютерная криминалистика - Н.Н. Федотов
Hackers: Heroes of the Computer Revolution - 25th Anniversary Edition - Steven Levy
CSS3 for Web Designers - Dan Cederholm
Великий замысел - Стивен Хокинг
Как быть крысой: искусство интриг и выживания на работе - Й. Сгрийверс
The C Programming Language, 2nd Edition - Brian W. Kernighan, Dennis M. Ritchie
Иллюзии, или Приключения вынужденного Мессии - Ричард Бах
The Elements of Content Strategy (Brief Books for People Who Make Websites, No. 3) - Erin Kissane
Чайка по имени Джонатан Ливингстон - Ричард Бах
Та самая цель - Элия Голдратт
2011
Surely You're Joking, Mr. Feynman! (Adventures of a Curious Character) - Richard P. Feynman, Ralph Leighton
Психология стихийного массового поведения - Назаретян А. П.
Effective Java (2nd Edition) - Joshua Bloch
Thinking in Java (4th Edition) - Bruce Eckel
2010
Just for Fun: The Story of an Accidental Revolutionary - Linus Torvalds, David Diamond
t - Пелевин
CSS: The Definitive Guide - Eric A. Meyer
LINUX. Карманный справочник. - Скотт Граннеман
Полный root - Александр Чубарьян